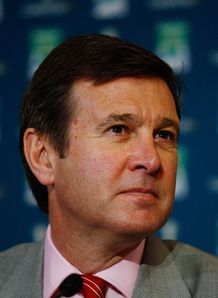 Related links
Teams
The Welsh Rugby Union has revealed that it invested a record £22.1m into Welsh Rugby in the last financial year after recording pre-tax earnings.
The WRU revealed the figures in their annual report, which highlighted investments of £4m for the community game and £4.2m into elite rugby.
The governing body also invested £1m to help the Ospreys, Scarlets, Cardiff Blues and Dragons develop and retain their best home-grown players in a bid to avoid a repeat of the dispute between the union and the regions earlier this year.
CEO Roger Lewis had forecast a more difficult financial year after the figures for 2012 returned a record turnover and a record-equalling profit.
Turnover was down £2.2m to £61m, but earnings before tax were up by £1.5m to £29.1m.
The figures were no doubt assisted by Wales clinching their fourth Six Nations title in nine years as well as the large contingent of Wales internationals selected for the Lions tour of Australia in June.
"The results we publish stand as clear confirmation that our business is now set on firm foundations and we are able to operate successfully even in challenging economic times," said Lewis.
"This displays a direct link with the key changes we have put in place since 2006 with radical reforms of our financial and operational practices plus a robust recruitment policy.
"It costs money to fund radical change and nurture development so I am delighted that we have again been able to deliver meaningful and record levels of financial support within our priority areas of elite rugby, the community game and the Millennium Stadium.
"It is also a tribute to our success and our reputation that we are able to attract key executive staff of the calibre of Josh Lewsey as head of rugby and Mark Williams to become Millennium Stadium manager to join our outstanding executive board.
"Soon we will welcome the Rugby League World Cup opening ceremony and matches to the Stadium and we are already beginning to plan for the Rugby World Cup games we will host in 2015.
"These are great times for Wales and we are delighted to be playing our part in making this a great nation to be part of."