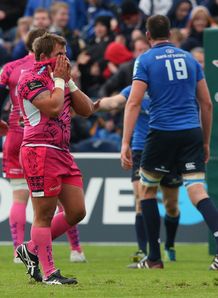 Related links
Teams
Leinster coach Joe Schmidt admitted that his side were "very lucky" to escape with a 9-6 win over Exeter Chiefs on Saturday.
The Chiefs were making their Heineken Cup debut in Dublin but went toe-to-toe with the defending champions only to miss a last-minute penalty that denied them a deserved draw.
"It was disappointing," Schmidt told Sky Sports.
"I don't think there was the fluidity out there from either side. There was quite a bit of play bit it didn't going anywhere much.
"I thought both sides defended really strongly, it's the first time in a long time we haven't conceded a try so that's something positive. We got exactly what we expected - they're really tough, tough to clear them out of the ruck, tough to even keep up with them - I thought they played across the field really well.
"As I've said before I think they're really well coached, they're a really tough side. I know we've got to go back there yet, I'm not looking forward to that because we got out of jail today.
"If anything a draw would've been a fair result maybe and in the end I think they missed one more kick than we did so it could have even gone their way so we were very, very lucky."
Exeter's Irish skipper Tom Hayes said his team was still growing and would take great confidence from such a promising performance in their first Heineken Cup game.
"We came here today to play are rugby, we said we're delighted to be in the Heineken Cup so we weren't going to be afraid of being in it when we got here," said Hayes.
"We put everything we had into the game, we've come up a little bit short but there's a lot there for us to be positive about and a lot to build on.
"We've a lot of belief in ourselves in what we're about as a team. We've grown a bit as a team together over the last three or four years and we're developing all the time so today is just another step forward.
"We're not the finished article by any means but hopefully we can kick on from here and try to improve and at some stage turn games like that today into wins which will be crucial for us."