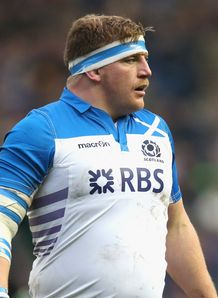 Related links
Teams
Also see
Scottish international prop Moray Low will join Exeter Chiefs on a two-year deal from Glasgow Warriors next season.
The experienced 29-year-old prop is the latest name Chiefs head coach Rob Baxter has added to his ranks for the 2014/15 season andsays he is "excited" about the challenge that awaits him.
Low follows England international Thomas Waldrom in heading for the Westcountry next term, having spent the past eight years in Glasgow where he has made made 144 appearances for the PRO12 side.
His arrival at Sandy Park will be nicely timed as the Chiefs are set to lose current tight-heads Hoani Tui and Craig Mitchell to Lyon and Cardiff Blues respectively.
With 25 caps for Scotland already to his name, Low hopes tackling the demands of the Aviva Premiership will help to further his career both for club and country.
"It's a massive challenge for me, but it's one that I am certainly looking forward to," said Low.
"Exeter are a quality and ambitious club and they've really established themselves within the Premiership over the last few years.
"Having met and chatted with Rob and had a look around the place, I really like what's happening down there. The style of rugby they play, the crowd they've got behind them, you can see the Chiefs is a great place on and off the field.
"As I said, it's a big challenge but as a player you want to test yourself at the very top end. The Premiership, I know, is a tough division and you don't get any easy games playing in it, so it will be good to see how I go and how I can play my part."
Having made his Warriors debut back in 2006, Low admits leaving Glasgow was not an easy decision.
"I've really enjoyed my time at the Warriors and I'd like to thank everyone at the club for helping me develop as a player," he added.
"The club have really come on a lot since my early days there and I want to play a big part for them between now and the end of the season.
"Moving to Exeter, though, it will definitely offer me something different. Sometimes when you've been at a club for a long time you can get comfortable in a position, so it will be interesting to have something new to get stuck into.
"It'll be up to me to get my head down, make new friends within the squad and look to earn the respect of the players and the coaches around me. It will almost be like starting all over again in some ways, but that's something that excites me and will hopefully drive me to do well at Exeter."
Commenting on the deal, Baxter said: "We are really pleased to have signed Moray. Everyone is aware we have lost a couple of good tight-heads so replacing them is important. Moray is one of those guys who has not played masses and masses of rugby, but he has already got some very good experience at Heineken Cup and international level.
"Scrums are a massively important thing, and Moray is one of those guys who will really develop within the Premiership.
"The Premiership is almost the best place in the world to develop as a prop because there is tough competition every week. You get to play against real quality players week in and week out, and normally as a tight-head, you don't just get to play against one in a game - you probably come up against two.
"It will be great for him, I think he will fit in really well, he is more than just a set-piece player, he likes to defend aggressively and get the ball in his hands and make decisions, and everything we have done analysing him and meeting with him, has proved he could be a very good asset for us."
Baxter added: "We want to make sure we get the balance of the squad right, we are an ambitious team and we want to be at the right end of the table, and part of that is how you retain your good, young players and the players who want to stay at the club, and it is also about how you recruit.
"We are trying to get the right balance, so over the next two to four years we keep moving forward."
Baxter said he was aiming to sign another tight-head prop before next season to add to his front-row options even further.
"Whether that will be a high end tight-head or a guy we have been looking at for a while and think we can really develop quickly, only time will tell," he said. "I look at Alex Brown and how much he has come on, and some of the other props at the club who have come on so quickly, and there are some other options to going out there and trying to trawl the market for sometimes props who aren't probably as good as their price tag demands. We will take our time over recruiting another tight-head."
"It is great that international players want to come to Exeter," added Baxter.
"We want to be a very good Premiership club, so we have to recruit player that we feel fit in with what we want to do here but who will also add things. Some of our recruitment is based on guys with something to prove and some about those already at international level.
"We have to keep getting the balance right so we don't want to go too far down one strand. we have a strong Academy, which is producing some good players, and they have to be missing in with quality internationals."
Exeter's gain is sadly Glasgow's loss, but Warriors head coach Gregor Townsend was more than happy to wish Low all the best for the future.
"We'd like to thank Moray for everything he's done for the club over the past eight seasons and we wish him well for his next challenge at Exeter," said Townsend, whose younger brother Craig was himself a former Chiefs player.
"He has always been committed to helping the team and is a popular figure within the squad. I know he will be determined to end the season and his time at the club on a high and we look forward to seeing him back in a Warriors jersey when he returns from international duty."