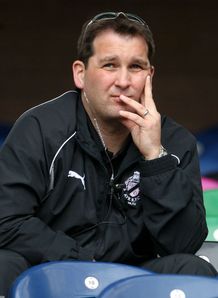 Related links
Teams
Glasgow Warriors have added Ayr head coach Kenny Murray to their coaching team ahead of next season.
Glasgow-born Murray, who led RBS Premiership side Ayr to a league and cup double last season, will join the Scotstoun-based side next month.
In the new full-time role he will work alongside existing coaches, Shade Munro and Matt Taylor, to support head coach Gregor Townsend.
Ayr won their first Premiership title in the same season Kenny Murray took over as coach in 2008/09, after moving from Cartha Queens Park.
They have won the RBS Cup three times under his guidance and were named the RBS Club of the Season at the recent Scottish Rugby Club Awards Dinner.
He is the only coach to lead a Scottish team to the quarter-finals of the British and Irish Cup, when Ayr progressed from the group stages in 2010/11.
Following Kenny Murray's departure, Ayr's assistant coach Peter Laverie has been appointed the new head coach of Ayr.
"I am absolutely delighted to be appointed as a new assistant coach of Glasgow Warriors," said Murray.
"This is a fantastic opportunity for me to develop my career and work alongside some very good coaches, who are already at the club.
"I have mixed emotions as I've thoroughly enjoyed my time at Ayr. Although I'm sad to be leaving I know they're in good hands.
"It's an exciting time to be joining the Warriors and I can't wait to be involved in professional rugby and to start working with everyone at the club."
"This is an exciting appointment, as we look to continue the development of our Scottish coaches and bridge the gap between domestic and professional club coaching in this country," said Scottish Rugby Director of Rugby Scott Johnson.
"Kenny is one of the brightest prospects in our game and he's had a very successful period with Ayr.
"He has all the attributes of a top coach and he will now get the chance to work in the game full-time in order develop his career in Scotland."
"We're delighted to bring Kenny on board," said Glasgow Warriors head coach Gregor Townsend.
"Kenny is a hard working individual, who has brought success to Ayr over the last five years and we will now benefit from having him at Glasgow Warriors.
"Kenny was the ideal candidate for the role, which will provide us with valuable coaching support. He will help us build on what we achieved last season."