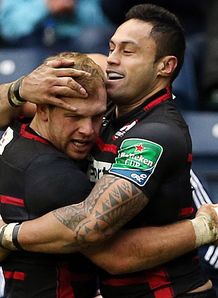 Related links
Teams
Edinburgh back Ben Atiga has spoken about falling back in love with the sport and the new atmosphere under Alan Solomons.
A one-time All Black at the age of 20, Atiga's potential has arguably gone unfulfilled having once been named World Under-21 Player of the Year.
Atiga spent several years with the Blues in Super Rugby before taking a break from the game due to a combination of injuries and and frustration, a decade on from his All Blacks debut Atiga now finds himself playing in Scotland after time with the Highlanders.
"When I did take a break I was quite drained by the game," Atiga told The Herald.
"My head was in the wrong place. Going into a game, I was thinking about the last minute, and I knew if I was thinking like that then I shouldn't be there. It was not fair on the team.
"I stayed right away from it. I kept away from the boys. I was living off my savings but I got into a marketing business with a couple of mates from school just to get some experience.
Other than that I didn't want to do anything, I just wanted to get right away from rugby. I knew I had to get away and I did really enjoy myself for a while. One thing I did miss was the camaraderie and I came to appreciate just how lucky I am to be doing something I love, something I knew I was good at."
Atiga also revealed that the atmosphere during his first season with the Scottish club was tense and frustrating, with head coach Michael Bradley sacked before the season's end.
"The way the season went we were biting at everything," added Atiga.
"It was not an enjoyable environment to be in. It was really tough and a lot of fingers were being pointed all over the place. It was all about trying to stay tight and get around each other.
"It was hard to go out and encourage guys to go out there and express themselves when we were in a situation like that and where we were trying to break that drought.
"It's probably a bit more relaxed now. [Head coach] Alan Solomons and Omar [Mouneimne, the assistant coach] are quite straightforward. They have the respect of the boys and they definitely keep the guys on their toes, which is probably what we needed this year, but at the same time everyone is encouraged to enjoy themselves.
"You can be a great team off the field and a great bunch of mates close as ever but at the end of the day it's the results that count. That's what the public demand and that's who we are and what we are all about. This business is all about performance and that's what counts.
"But my point is that you need to build a winning culture, a tight culture, because that shows on the field when you need to dig deep. It's a fight to the end now and that's maybe the attitude that we were missing last season."