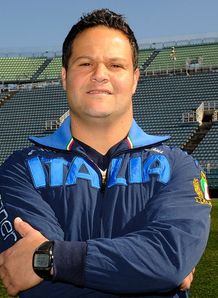 Related links
Teams
Edinburgh have announced the appointment of former Italy defence coach Omar Mouneimne as assistant coach, taking charge of the club's defence, kicking game and breakdown.
The appointment will reunite the South African's Super Rugby partnership from the Southern Kings with recently appointed head coach, Alan Solomons, where the pair enjoyed unbeaten Currie Cup division one success with Eastern Province (the first time in history).
"The sport has taken me to Edinburgh a number of times throughout my career and I've always left with a sense of awe for the history, the character, and the values of strength and courage, which I consider very important," said Mouneimne, who will check into Murrayfield on 20 August.
"There is a tremendous amount of potential in Edinburgh. It's the type of club I believe can go far. It will truly be an honour to be part of it."
Mouneimne began his work as a professional defence coach in 2006, as a collision and breakdown specialist for the South Africa Sevens team.
He went on to coach South Africa U20, before joining Western Province and the Stormers sides in 2008, building their reputation as one of most feared defensive units in the Currie Cup and Super Rugby.
In 2010 he was appointed as defence coach for the Italian national team, contributing to the Azzurri's growing status as a formidable and fearsome national side, before joining Solomons in South Africa at the Kings franchise.
"Omar [Mouneimne] is a world-class rugby coach," said Solomons.
"He's absolutely superb in his specialised field of defence and the breakdown, and is certainly the best I have ever worked with.
"He's been my right-hand man and done a fantastic job during what was an extremely challenging Super Rugby season, just as he did in last season's unbeaten Currie Cup run.
"He is a really good bloke and a great team man. There is a terrific synergy between us and I'm really looking forward to continuing our partnership alongside forwards coach Stevie Scott at Edinburgh."