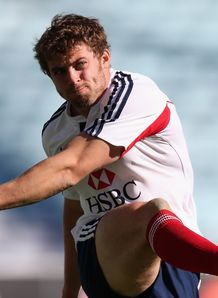 Related links
Teams
Cardiff Blues and Wales full-back Leigh Halfpenny has been advised that a lucrative financial move to France could come at 'a massive price.'
Blues owner Peter Thomas has warned the Wales and Lions international that a shift to the Top 14 will be detrimental to his international career.
Thomas is pushing the argument that staying at Cardiff will provide the full-back with the attention he needs to enable him to continue achieving in the Welsh jersey. The same comments have been said to Wales and Lions captain Sam Warburton, who like Halfpenny is out of contract next summer.
"The business model in Wales cannot afford the sort of figures being bandied about by some French clubs," Thomas told The Rugby Paper. "But they realise that if they do go, there will be a massive price to pay.
"Look at Dan Lydiate. He will have played six matches for Racing before Leigh or Sam play one. Come the autumn internationals, the Welsh-based players will be in a far better physical condition.
"Their careers will be longer by staying in Wales. There will also be lots of commercial opportunities because they are recognised wherever they go, unlike the centre of Paris where you could be any Tom, Dick or Harry.
"Leigh and Sam are as iconic in Wales as Richie McCaw and Dan Carter are in New Zealand. They will be playing in the next World Cup because they've been looked after.
"We've got to do the same with our very best players and they know what's at stake at the World Cup in two year's time."
The fact that Halfpenny may fetch a seven-figure price tag does not faze the Cardiff boss.
"If that's what Leigh's worth, well done to him," Thomas said.
"But I am optimistic that between us, the player, the Blues and the Welsh Rugby Union, we will find a solution."
The Blues and the Welsh Rugby Union failed to prevent another high profile player, Jamie Roberts, from leaving at the end of last season as Racing Metro more than doubled his salary.
Thomas however is adamant that Halfpenny is a different case with different motives.
"Jamie wanted to go," he said.
"It wasn't only the money. He wanted a lifestyle change."