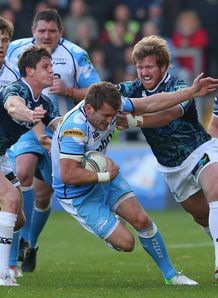 Related links
Teams
Also see
Cardiff Blues hooker Andi Kyriacou will assist the Blues coaching team following his retirement through injury, the region has confirmed.
Kyriacou joined Cardiff Blues from Ulster in mid-2012 and made his debut in the 13-9 win over Connacht at the Sportsground in September.
A prolapsed disc injury suffered early on in his Blues career meant he had to undergo surgery just before Christmas but he's failed to recover.
The Liverpool born hooker began his career with Sale and Leeds, before spending five seasons at Saracens after signing in 2004. He then enjoyed an impressive loan spell with Munster during the 2006/07 season and moved from Saracens to Ulster in the pre-season of the 2009/10 term.
"It is really disappointing that I have to retire from playing," Kyriacou said of his rugby retirement.
"Unfortunately I've failed to recover from the prolapsed disc I suffered and have had to retire following advice from the medical team.
"It is really frustrating as I came to the Blues with the intention of working to establish myself as a regular first team player and wanted to make a real impression. So it's disappointing my injury has stopped me from doing this.
"I've been studying part time at Manchester Metropolitan University for a degree in Sport Science as I wanted to develop a career in coaching, so it's come about sooner than I expected.
"This is a great opportunity for me and I am looking forward to working with Phil and the coaching team.
"I will be concentrating on the scrummaging area, working closely with Phil with the lineouts and position specific skills with the hookers.
"I've been fortunate to have worked with some brilliant coaches throughout my career and would like to thank them for believing in me.
"I've made some lifelong friends along the way and will treasure the memories I can take from my time as a player.
"I'd like to say a special word of thanks to my wife and family who have supported me throughout my career and also to the Cardiff Blues players, coaches and medical team who have been great with me since I joined and during my time with injury."