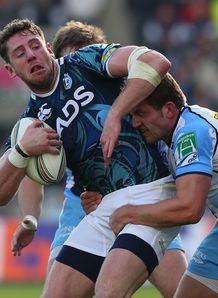 Related links
Teams
Wales wing Alex Cuthbert is set to extend his stay at Cardiff Blues after revealing that his first choice is to remain at the Welsh region.
The 22-year-old is out of contract at the end of the season and has been linked with some of the big-spending clubs in France. This after he rejected the chance to play in the Top 14 tournament to sign a one-year extension with the Blues at the end of last season.
Cuthbert's Blues' team-mate Jamie Roberts last week revealed he will leave the region at the end of the season, and is likely to further his career at a Top 14 club.
But Cuthbert hinted that he could stay on at Cardiff.
"Yeah, I think so," he told Walesonline when asked whether staying with the Blues was his first choice.
"I haven't spoke to my agent for a while about other offers."
Blues chief executive Richard Holland has stated that retaining Cuthbert's services and building a squad around him is a major priority especially after Roberts announced that he would be leaving.
"I'm still young and in only my second season, so I am quite privileged to hear him say something like that," said Cuthbert.
"I'm grateful to the Blues for giving me a chance and it's exciting times.
"The results aren't going the right way, but we are rebuilding and I knew it would take a couple of years.
"I know we have the players at the club and the club is working hard to attract some top players and to get some more experience in the squad.
"The region are at quite an exciting point, the start of something that is going to get better."
"And despite Roberts being set to join a growing number of Welsh players who are playing in France, Cuthbert believes it is important for young players to stay in Wales.
"I'm still developing and still have so much to learn," he said.
Being in the Wales environment helps a lot and is only going to further my development.
The longer I'm in this environment, and the closer I am to it is only going to be good for me."