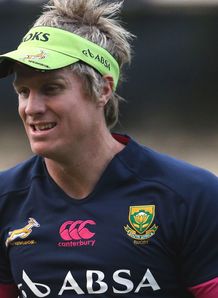 Related links
Teams
Springboks captain Jean de Villiers insists his team will not change their approach despite requiring a try bonus point to claim the Rugby Championship.
The centre was keen to point out that the four tries necessary to secure the bonus point against New Zealand in Saturday's Rugby Championship decider is not the Boks' focus - more so the standard of play that will allow them to do so.
"We won't be playing any differently than what we were playing in the previous games. Our game plan hasn't changed. I think to be successful we have to execute what we have been doing," De Villiers explained.
"We have to put up a performance like we did for the first 20 minutes last week and we need to do it for 80 minutes.
"The fact of the matter is that it is not a Mickey Mouse team we are up against. They are the World Cup winners, the number one team in the world and they also want to win the competition, they want to win the game.
"It makes for a great game."
South Africa have developed well this season, and recorded a very impressive set of results, losing just one game from their past eleven. This defeat came last month when the Boks went down to the All Blacks 29-15 in Auckland, and some feel that this team's true success will not be realised until they overcome the Kiwis.
De Viliers stated he was pleased with the season's record, but that there was still plenty to build on.
"We've had a good season, if you take into account how we started and finished off last year, it was probably a pass but not at the standard that we wanted it to be at," said the skipper.
"This year has been really good, we have only lost the one game. It does come down to tomorrow's game, but not so much the scoreboard, but the way we play.
"Last week even though we were up by 20 points at halftime and on the scoreboard it was looking good, we weren't happy with the way we had performed.
"I think it is looking past that and purely looking at the way we play, the way we execute and getting all those facets of play together and hopefully play the perfect game."