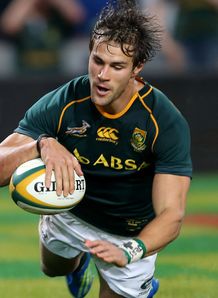 Related links
Teams
South Africa could be without centre JJ Engelbrecht during Saturday's Rugby Championship decider against New Zealand in Johannesburg.
Engelbrecht's hurt his leg in what appears to be the only injury concern for the hosts following last week's 28-8 victory over the Wallabies in Cape Town.
Should he not recover in time, chances are that Jan Serfontein would earn his first the run-on cap at inside centre with Jean de Villiers shifting to the outside.
"We have the usual bumps and bruises but the biggest concern is JJ Engelbrecht, who took a big knock to his quad muscle and he's got a big contusion there," team doctor Craig Roberts confirmed.
Meanwhile, Bok coach Heyneke Meyer said that his men are under no illusions as to the difficulty of the challenge that awaits this weekend.
South Africa need win the match and secure a bonus point for scoring four tries while at the same time preventing the All Blacks from picking a bonus point of their own.
What has been of concern in Meyer's camp is the fact that his men failed to run in the required four tries against a weak Australian outfit.
"Australia played much better in the second half," said Meyer.
"The main thing was to win and I am very happy that we've still got a chance going into this game."
"Obviously it will be great just to beat them, but you either go for the four tries or you don't."
South Africa's last victory over New Zealand was in 2011 under Peter de Villiers when they ran out 18-5 victors in Port Elizabeth.
It was also clear yesterday that Meyer would persist with the charm offensive he had, unsuccessfully being using against the world champions.
"I have a lot of respect for New Zealand, but we have to go out there and be positive," he said.