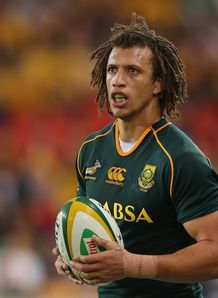 Related links
Teams
South Africa head coach Heyneke Meyer believes his selection of Zane Kirchner was vindicated by the win over Australia.
Kirchner was one of four try scorers as South Africa ended a miserable run at Suncorp Stadium.
Willie Le Roux, the full-back against Argentina, was moved over to the right wing in another selection that paid off as the Cheetahs added a try of his own and also set up Kirchner's try.
Having received criticism regarding the perceived conservatism of his selection earlier in the week, Meyer backed up his belief that Kirchner was an attacking threat and believed that he brought something extra to the mix.
"I'm just thankful that sometimes the coach gets it right," said Meyer.
"Probably people back home can't believe with Zane Kirchner in you can score tries. I'm just really happy for him and the backs.
"He hasn't played for quite some time, probably two or three months. He was brilliant there. We knew exactly what we didn't do well in the previous game. He brought something.
"Willie is a quality player he's still learning test match rugby.
"I thought he was awesome. It's a horses for courses approach. He's always scoring or playing. Willie's a brilliant player. People think South African backs can't be exciting. I truly believe they can."
Meyer also credited the Boks defence and his side's self-belief, after previous criticism back home.
"I thought our defence was awesome. I truly believe we won the game firstly in our minds and secondly without the ball because the whole message was we needed to make more than 150 tackles," added Meyer.
"If they get momentum they are a very good side. I was very happy the way we attacked at the end.
"We really believed we could win. We wanted to show if you work together nothing is impossible.
"A lot of things worked, but we need to keep our feet on the ground and stay humble because next week is a bigger challenge."