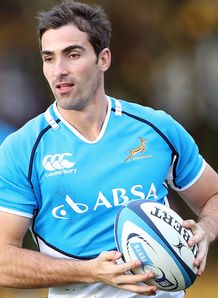 Related links
Teams
If history is the best guide, then the Springboks' nine-match winning streak will end against the Wallabies in Brisbane on Saturday.
Australia has won its past seven Brisbane matches against South Africa by an average of 20 points, including a 21-9 victory in 2009 which was the Wallabies' only Tri-Nations win that season and champions South Africa's only loss.
The Wallabies have only one win in five Tests this year, including two losses in a row to the All Blacks to start the Rugby Championship. South Africa has beaten Argentina twice and has the early lead in this year's tournament.
Scrum-half Ruan Pienaar, whose 68 Tests include that 2009 loss, said he can't explain the reason for South Africa's poor record in Brisbane. Or their record on Australia's east coast for that matter; South Africa have also lost all six matches played in Sydney since the code went professional in 1996.
"I don't think you can put your finger on that," Pienaar said.
"For us, we take a lot of pride in playing back home and it's the same for Australia - they want to put in a big performance before their home crowd."
Pienaar said a victory Saturday would be a big confidence-booster for the Springboks in their second season under coach Heyneke Meyer.
"I know the record isn't great but that's the exciting thing now for this group now," he added.
"If you want to grow as a group and go forward you would like to get a result here.
"We are a fairly young squad ... so this would be a massive step in the right direction."
South Africa's record at home against the Wallabies is near-perfect - the team has lost only once to Australia.
The Wallabies broke a 47-year drought with Kurtley Beale's late penalty goal at Bloemfontein in September 2010 giving the visitors a 41-39 win.
"At home on the Highveld, it is more of a continuity game and you get that continuity," Meyer said.
"Away from home it is more of a contesting game where you get the teams contesting every single line-out, so we have to be disciplined."