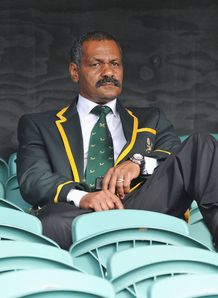 Related links
Teams
Former South Africa head coach Peter de Villiers has criticised the SARU's introduction of a quota system into domestic rugby.
The Vodacom Cup will be played under a new quota rule from next year, with teams forced to field seven players of colour in their 22-man squads, with a least five players starting.
De Villiers, who coached South Africa between 2008-2011 and was the first non-white coach of the national side, believes the system is destined to fail.
"It's the worst decision they could make. Everybody will believe that these players will be picked because people are looking out for them," said De Villiers to BBC Sport.
"They (SARU) make people believe they care about who is coming through the system - but they only do that to tick some boxes.
"They like to report these things but you don't see the difference in reality. It's not the first time they have tried to put these things in place and they have never worked.
"It will only ever work if there is a transformation period in people's hearts. If there isn't I think they are wasting their time."