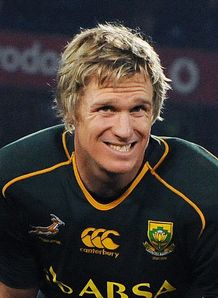 Related links
Teams
South Africa captain Jean de Villiers has called for an end to the policy of selecting players based overseas.
Speaking to radio in New Zealand, De Villiers described the dilemma as "massive" due to the impact so many departures were having on the quality of Super Rugby teams.
Of the Springbok squad playing this weekend, four of the starting XV are now based in Europe in Bryan Habana, MornÚ Steyn, Ruan Pienaar and Francois Louw.
The replacements bench has also seen the return of Gurthr÷ Steenkamp, who is based with Toulouse, and Fourie du Preez who has been playing in Japan.
With the exodus from the Bulls after the Super Rugby season along with Australia and New Zealand's policy not to select overseas players, De Villiers believes the South African Rugby Union needs to act.
"It is a massive issue and a massive problem at this stage because without a doubt the Super Rugby sides will be weakened a hell of a lot," said De Villiers to Radio Sport.
"It's something that South African rugby is looking into. We can't go on like this. We have to keep South African rugby strong.
"For now, they're selected from abroad but going into the future I can't see that happening.
"You don't want to change the team going into the Rugby Championship and play essentially second stringers, to put it quite harshly.
"It's something they need to look at. You want to be able to pay your players good money, you want to be able to keep them in South Africa and I suppose getting the payments right is the key."