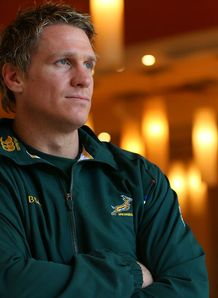 Related links
Teams
Springbok captain Jean de Villiers echoed his coach on Saturday, saying a lack of experience was critical in their narrow loss to Australia.
South Africa took the field with one of their most inexperienced team in years and the Wallabies made a second-half comeback aided by the visitors' mistakes after veteran campaigners Bryan Habana (ankle) and Jannie du Plessis (hamstring) were forced off injured.
"People ask: 'What does experience bring to the game?' and it is exactly that. I think Nathan Sharpe had more caps than our whole pack just about," said De Villiers after the 26-19 defeat.
"The more you play together, the more that you play Test match rugby, you will learn from those mistakes and you will know how to handle it," he added.
"You have to put everything into perspective.
"I don't think that we can suddenly expect to be the greatest team in the world and just click and play fantastic rugby.
"We need to learn from the experiences, we need to grow as a team and that takes some time. We want to be winning every single game that we play and those pressures from the media, from the fans, we feel them at times.
"But we believe that we are on the right track, we believe that we played much better rugby today and hopefully we can keep on improving when we play next week as well.
"It is a young team but it is Test match rugby and you don't have a lot of time to grow at this level. We need to quickly rectify those mistakes and hopefully get a better result next week," he explained.
De Villiers added that the Boks' inability to drive their advantage home during their first-half dominance was an issue that needed to be resolved quickly.
"I thought that we had opportunities to score one or two more tries but those are the margins that decide Test matches," he said.
"You get two or three opportunities and if you don't take them you probably end up on the losing side and that's what happened today.
"I am happy that we are creating those opportunities but we need to capitalise on them."
De Villiers gave the Wallabies credit for manner in which they fought back after staring a third consecutive defeat in the face.
"To come back from 13-3 down and win a test match by seven points is pretty special and credit must go to them for doing that," said De Villiers.
"They were also under pressure and in difficult circumstances you tend to see who can put their hand up and who can play at this level and who can make the difference.
"I reckon that their coaches will be pretty happy tonight and definitely the team stepped up and they performed tonight."