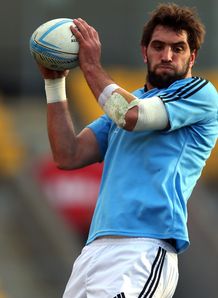 Related links
Teams
Despite beating Australia in their opening matches, New Zealand are not resting on their laurels and are constantly working on improving their game.
All Blacks lock Sam Whitelock revealed that the world champions' line-out has been patchy at best and that it's an area of concern ahead of Saturday's clash with Argentina in Hamilton.
"The line-out hasn't been up to scratch," he told Fairfax Media.
"We're the first to admit that. We've got to make sure we get our processes in place. That's something we can always go back to if something goes astray."
The Wallabies contested regularly on the All Blacks' ball in the line-outs in Sydney and Wellington and did manage to disrupt the quality of possession provided to scrum-half Aaron Smith.
Whitelock knows how important quality ball from the set-phase is to provide an attacking platform for the All Blacks' dangerous backs but also emphasised that they must also attack on los Pumas' balls.
"We've got to make sure our jump is prefect, the lift is perfect," he added.
"That will allow our hooker to have the consistent area to throw to. If we can nail those three areas I'm sure we should be fine with our ball and then hopefully put pressure on their line-out too.
"Their line-out is probably a little bit different to what we see in Super Rugby. In their second Test against South Africa they got a couple of balls at the front and a couple at the back.
"We've got to be prepared to everything they can bring."