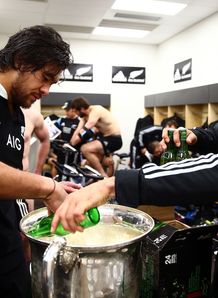 Related links
Teams
All Blacks flanker Liam Messam has credited new back-rower Steven Luatua for settling into the New Zealand squad.
Luatua has started at blindside flanker against Australia over the last two weeks and been in impressive form, winning praise from his rival for the number six jersey.
With Luatua settling into Test rugby, Messam realises he now faces a new challenge of working his way back into the side to add to his 23 caps.
"(Luatua) got chucked in the deep end that first week and the way he's been performing the last two weeks, it's been awesome and it's awesome to see a young kid like that just really come in and take his opportunity," said Messam to ONE News.
"It is a bit of pressure on the older fullas but yeah a challenge I'm looking forward to.
Messam admitted his frustration at watching from the sidelines as New Zealand secured the Bledisloe Cup for an 11th consecutive year.
The Chiefs co-captain though could return next weekend against Argentina, on home turf at Waikato Stadium.
"I love playing in Waikato Stadium but just to be back in that black jersey is something I'm really looking forward to," added Messam.
"It's been frustrating the last couple of weeks. I've missed the last three Test matches so I'm just really looking forward to putting on that black jersey - doesn't matter where it will be."