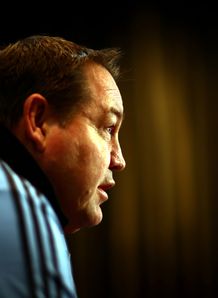 Related links
Teams
All Blacks head coach Steve Hansen has called for fans to quite booing Australia fly-half Quade Cooper ahead of Saturday's Test.
Cooper received a heavy reception when he came off the bench against New Zealand during last weekend's 47-29 loss in Sydney.
It was Cooper's first outing for the Wallabies since his acrimonious exit from the national squad under Robbie Deans, after labelling the environment "toxic".
Cooper has never been a fan favourite in New Zealand due to his history with Richie McCaw, but Hansen believes it is time to let the matter lie and described him as "not a bad bloke."
"Two things, firstly we are probably all over it. Secondly, he probably brought it all on himself,'' said Hansen.
''I don't boo him and I'll continue not to boo him. I think he's a good player and not a bad bloke either when you have a quiet chat to him.
''But it probably would be good if we all got over it.''
All Blacks winger Julian Savea agreed with Hansen, empathising with Cooper and calling on fans to focus on the game.
''Nah, it's not [good]. If someone was booing me all the time I know it would be pretty tough. I don't know what else to say on that, but I guess it's tough on [him]," said Savea.
''Just enjoy the game and be good spectators I guess.''