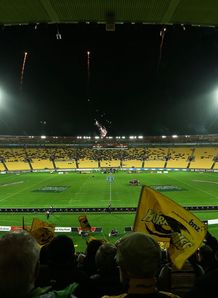 Related links
Teams
Also see
Following a detailed engineering assessment, Westpac Stadium has received the all-clear to re-open ahead of this week's All Blacks vs Wallabies Bledisloe Cup fixture.
The stadium closed its doors as a precautionary measure following Friday's earthquake, but NZRU Chief Executive Steve Tew confirmed it is safe.
"It's great news we can host a sell-out crowd in a safe stadium as planned," he said.
"Public safety is of paramount importance to us so it was essential we received reassurances from engineers before continuing with our planning.
"Obviously this has been an unsettling time for fans and we fully support Westpac Stadium's prudent response to Friday's earthquake to close the facility pending checks."
Stadium Chief Executive Shane Harmon said public safety was the stadium's top priority.
"We followed the same process as we did for the recent July earthquake. We will always take a conservative approach in the event of a major earthquake," he said.
"We can assure ticket-holders that the stadium is structurally sound and that there is no greater level of risk than existed before the recent earthquakes. Our engineers have said that the building has performed as expected."
The stadium had incurred similar minor damage as it did in the July earthquake, such as chipped concrete and broken glassware. Harmon said that all repairs would be carried out quickly and well in advance of Saturday's big match.
Tew said New Zealand Rugby planned for a range of contingencies as is normal for any major event it is responsible for.
"We will continue to monitor the situation, but our focus now is on ensuring the stage is set for a fantastic Test match," he added.
Saturday's match will be played in front of the largest Test crowd in Wellington in recent years with 38,000 fans expected to attend the sold-out match.