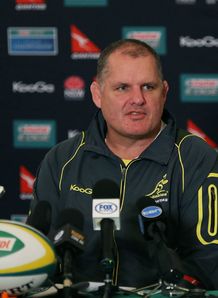 Related links
Teams
Wallabies boss Ewen McKenzie is confident his side can bounce back despite suffering a 47-29 loss to New Zealand in Sydney on Saturday.
Australia were outplayed in most facets and face a daunting task in next weekend's clash against the world champions in Wellington.
The defeat means that the Wallabies have now conceded 88 points in two Tests, after losing 41-16 to the British and Irish Lions in the third Test last month and their Bledisloe Cup dreams are now quickly disappearing.
But despite such damning statistics, McKenzie is still positive and said the Wallabies are determined to turn the tables in Wellington.
"I have been around the rugby scene along time. You guys should know if you look at results you will get 70-point turnarounds in seven days," McKenzie said.
"We just have to focus on the right things. We will tidy up our errors, we will definitely focus on those things.
"But there are other ways. There are things we did where a little bit more precision will work quite well.
"We knew what we were trying to do. There were certainly some opportunities out there we didn't take so with all that, we wil move forward.
"I am not going to sit here and get bogged down and spin our wheels. We will concentrate on the positives and tidy up the things we contributed to the negatives."
The former Reds boss said his side conceded too much turnovers which played a huge role in their downfall.
"Every time you lose a game it's disappointing," McKenzie added.
"We have to respect possession more. We didn't control the ball and they were able to play and do some of the things they're good at.
"We paid a price for that."
Horwill defended his side's poor defensive display and said there was no problem with attitude.
"I don't think there is a problem with attitude in defence, we just need to tighten up turnovers," he said.
"Most of their tries came from our turnovers. We just need to be better at holding the ball."