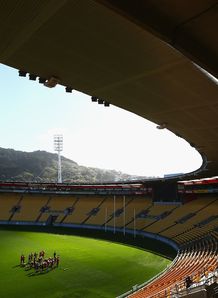 Related links
Teams
Also see
Doubts have emerged over whether Wellington will host the All Blacks next weekend following an earthquake in the city.
A 6.5 magnitude earthquake south of New Zealand's capital city took place on Friday.
Officials will now undertake engineering checks on the structure of the ground, with all events for this weekend cancelled.
New Zealand are due to host Australia at the 34,500 capacity Cake Tin next weekend.
Several aftershocks were felt after the initial earthquake, with the prospect of more serious earthquakes in the Wellington area putting the Test further in doubt.
"Westpac Stadium is closed this weekend as engineers check the building. There is an All Blacks test scheduled at the stadium next Saturday," said a recorded voice message at the stadium.
The following messages were tweeted from the official Westpac Stadium account on Friday:
"Following this afternoon's earthquake, the Stadium has been closed until engineering checks can be completed over the weekend and Monday.
"This is the same process we undertook after the July earthquake. It unfortunately means that tomorrow night's paint party has been cancelled.
"However, there is nothing to suggest that next weekend's Bledisloe Cup match will be impacted at this stage. We'll keep you posted."