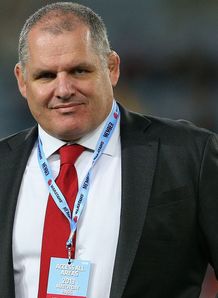 Related links
Teams
Wallabies boss Ewen McKenzie has started the mind games ahead of Saturday's Bledisloe Cup clash, insisting the All Blacks are beatable.
McKenzie also labelled Steve Hansen's side a 'team in transition' and, although Australia have not won a series against their trans-Tasman rivals in 10 years, said history is irrelevant as he believes his side can reverse the world champions' recent dominance.
"We certainly aren't going to get bogged down in the history of what's happened in the last period of time," McKenzie said.
"We know that the Wallabies have been quite capable of winning the trophy in the past and quite capable of beating New Zealand.
"It happens, New Zealand do lose games. They lost a big game to England last year - they do lose and we've got to make sure we're the team out there putting the pressure on them.
"... They're in transition from what I can see, they've got a few selection decisions of their own, working out the positions and where they are in terms of experienced players versus young guys coming through."
McKenzie, who replaced Robbie Deans as Wallabies coach after last month's 2-1 series loss to the British and Irish Lions, said it will be difficult to pick a 23-man squad as he has so much talent at his disposal.
"There's been a lot of selection challenges which I'm pleased about," he added.
"There's a raft of players there who, have not surprised me, but I'm pleased with what they've got to offer.
"You watch them on video and you watch them on TV and you see things that go on and you're impressed enough to choose them.
"But when you actually get with them you find that there's a lot more potential and a lot more things that can possibly go on so that gets your mind going about all the upside of that.
"In all of that you've got to get to know them as people and the attitudinal bits are pretty important, that's what underpins the ability to put those skills on the park is their attitude and I've been really pleased with all of that."