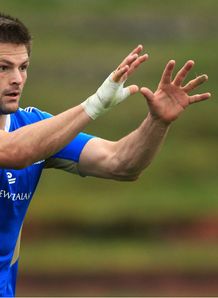 Related links
Teams
All Blacks skipper Richie McCaw has warned his team to be ready for a battle royale up front when they meet Argentina in Wellington on Saturday.
Argentina are expected to employ their forward-orientated approach but the unknown element is what else they will pack into their armoury now former All Blacks boss Graham Henry is firmly in their camp.
With stormy weather forecast, McCaw said they are relishing the prospect of an intense battle against the formidable Argentine forwards.
"Regardless of whether it's wet or dry it's going to be a battle up front and our boys talked about it and they're quite excited if it is wet as it gives them a chance to get stuck in," he said.
"We've just got to make it in our favour rather than theirs.
"If we allow them space I am sure they will use it, we've got to make sure we don't give them that chance."
The All Blacks have so far beaten Australia twice, despite problems with their decision making which saw the world champions miss out on several try-scoring opportunities.
"Sometimes holding on for that one extra phase can be the difference. I don't know whether that is the guys' over-eagerness but sometimes just calming down a little bit and making sure you see what is in front of you so you make those decisions right will tie over," said McCaw.
"But I think we were creating half chances but sometimes you have got to have that patience to make it a full chance. It comes down to a bit individual but I think as a whole team it's about getting that feeling right to trust your instincts."
Argentina would have taken confidence from holding South Africa to a 16-16 draw after a first round loss. That draw in Mendoza two weeks ago showed the Pumas will not be easy to beat in their first year in the Southern Hemisphere competition.
And there will also be no shortage of passion from the Pumas, who are set to be well schooled in the All Blacks preparations.
McCaw admitted he didn't have any great issues with former All Blacks coach Henry assisting the Pumas. It was all about lifting the standards of their game.
"From a New Zealand point of view you want four teams that are going to be hugely competitive and the Argentinians have already shown that," said McCaw.
"They probably should have won their last outing against South Africa. So it makes for a pretty good competition.
"It means you've got to be on the job every week and that's good."