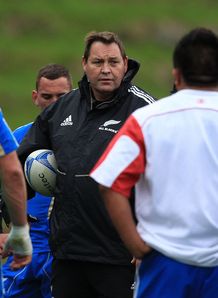 Related links
Teams
All Blacks coach Steve Hansen admitted to having mixed feelings about seeing his old boss kitted in a Pumas tracksuit ahead of Saturday's clash with Argentina.
The presence of World Cup-winning All Blacks coach Graham Henry in the visiting coaches' box during this weekend's Rugby Championship clash will be a small but unsettling factor for a home team expected to easily extend their unbeaten start to the tournament.
Only 10 months after leading New Zealand to RWC glory at Eden Park, Henry returns as technical adviser to Argentina - resplendent in the Pumas' light blue training strip and welcomed by coach Santiago Phelan into his inner circle.
"Laughter, disappointment, there were a whole range of emotions," said Hansen, after seeing Henry publicly draped in opposition colours ahead of the Test in Wellington.
Hansen spent eight years as Henry's assistant before succeeding him after the World Cup.
"I don't think we should make this about Graham Henry, we should make this about the All Blacks and Argentina because it's a special occasion, it's the first time in the Rugby Championship that we've played them," he said.
Hansen added though that Henry's close involvement with the Pumas likely contained positive and negative elements for the All Blacks.
"Personally, you've got a split decision," he said.
"You're thinking, 'Here's a guy who has been intimate with the (All Blacks) team for a long time and hopefully he doesn't tell them everything.'
"On the other hand it's really exciting because we've moved on a bit from when he was here.
"Because he is a great student of the game, to have him prepare a side to play against you, at the end of it we'll find out whether we've got any weaknesses or not.
"So that in itself is quite exciting."
The New Zealand Rugby Union (NZRU) contracted Henry for two years after the World Cup to work as a mentor with its high-performance coaches.
It also agreed to offer his services to Argentina to help prepare the Pumas for their first involvement in the Rugby Championship, the expanded former Tri-Nations tournament.
The NZRU envisaged that Henry's role would be less "hands on" than it has ultimately become and chief executive Steve Tew this week indicated some unease with his very close involvement.
But Tew explained that when Henry signed on with the Blues as a technical coach, he ceased to be an employee of the NZRU.
"We wouldn't have been comfortable under the contract we had with him, but he's a free agent and he can make his own calls," he said.
"We always envisaged he'd help prepare Argentina for this championship as part of the commitment we made to them coming into the (tournament).
"We wanted them to be able to put their best foot forward and we knew they had a bit of ground to make up."