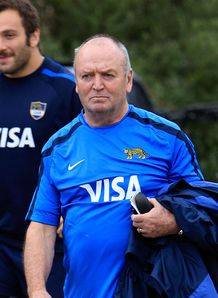 Related links
Teams
It was a strange sight to behold on Tuesday: Former All Blacks coach Sir Graham Henry in a Pumas tracksuit, helping the visitors prepare for Saturday's Test in Wellington.
If there were any doubts as to the extent of Henry's role with the Argentinean national side, they disappeared when he was at the centre of the Pumas training session in the build up to their third Rugby Championship clash at Westpac stadium.
The World Cup-winning coach has made it clear he will do "all he can" to assist Argentina in their quest to claim their first win over New Zealand.
"You can't misrepresent the role. I'm with the Argentinian side this week and next week and the two games (in Argentina) against Australia and New Zealand, as I have been for the previous three weeks," Henry told Fairfax NZ News.
"Helping with the high performance department and development of rugby is one role and the other is helping the national coaches in the role of coaching the Argentinian side."
Henry added that there was a chance he would sit in the Argentine coaches box on Saturday, but he doesn't expect any negative reaction from his countrymen.
"I think the New Zealand public are delighted one of the lesser lights of world rugby are getting some assistance," he said.
"I think it's different to helping coach one of the teams that's traditionally in the top echelon, like England or Australia or South Africa."
The All Blacks don't seem to have any no qualms with their former mentor helping out their opposition either.
Veteran scrum-half Piri Weepu accepted that Henry would have given the Pumas a few insights, but wasn't worried about with the impact his involvement would have on the tourists' performance.
"I guess he (Sir Graham) probably would have just told them what we are going to bring the table," Weepu told reporters in Wellington on Tuesday.
"We haven't spoken about it. We are just trying to focus on what they have to offer and work on that and make sure we come to the table with good preparation and we are ready to go on Saturday.
"This year is going to be a huge learning curve for them playing in a competition like this, so I guess they are just going to keep on playing like they have been over the years and make improvements on that.
"We already know what they are going to bring and I guess we just have to make sure we don't get fooled by what they offer us in terms of how they are going to defend and what they are going to do on attack. I guess we try and counter what we have seen so far and improve on what we have done so far.
"You can't really take them for granted. We know what they're capable of, they've proven over the past World Cup campaigns that they can match it with any team in the competition so for them to come out this Saturday, they'll definitely be proving that point.
"We've had five games so far and we've done really well, but these next two games are going to be a big test for us and we just have to make sure we go on from our last two games and improve on them and making sure that everyone ticks the boxes."