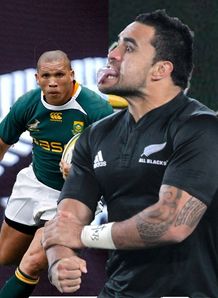 Related links
Teams
Also see
It can't get any worse for the Springboks can it? That question will be answered when South Africa attempt to pick themselves up for Saturday's return Tri-Nations bout with New Zealand in Wellington.
Last week's morale-sapping 32-12 defeat at the hands of the All Blacks - which came via four unanswered tries - was unexpected and caught everyone (Graham Henry included) by surprise. After waiting 12 months for revenge, the result went a long way in helping erase the pain the country felt from losing all three Tests to South Africa last year.
It now means the world champions have had a week to reflect, digest and - more importantly - find ways of improving significantly before Round Two kicks off at Westpac Stadium. Anything close to a repeat performance between two of the most battle-scarred combatants in the 89-year-old rivalry, will result in another one-sided spectacle.
Worrying for the visitors is that New Zealand, too, have room for improvement - this, after enjoying 66 per cent possession, dominating the setpieces and forcing the Springboks into 30 missed tackles. The All Blacks have not steamrollered the Boks in contact for some time, but they did it emphatically in Auckland.
In a nutshell, it was New Zealand's best performance so far this year and if any team wanted to lay down a marker of a performance for the next 14 months leading up to and including the 2011 Rugby World Cup, that was surely it.
With the tables now turned, it's the All Blacks who will hold the psychological edge over their old foes heading into this weekend's clash at the Cake Tin - a venue where the visitors have failed to produce an away win in three previous visits.
The biggest obstacle facing the All Blacks now in the run-in to Saturday's Test, is to dismiss any complacency and rekindle the desire that was such a motivation last week at Eden Park. There was a great deal of heat on Richie McCaw and his troops to get to the level they achieved. If anything, expectation had been raised rather than relaxed, with McCaw admitting that last week's exceptional performance was partly driven by public pressure.
"Everyone was sort of wondering where we were at," he said.
"The challenge this week is to back up the performance we put together. You put pressure on yourself to do that.
"Being able to do it consistently is a sign of a good rugby team and good rugby players, no matter whether you're under pressure or if things have gone well in the past."
Now it's the Springboks' turn.
But South Africa, of course, are not world champions for nothing. They'll return much better prepared and wipe the slate clean as they look to put a disappointing defeat behind them and balance the ledger with the All Blacks.
Despite all their recent success, you still get the sense that this Springbok side are not ready to embrace the tags of favourites. However they now find themselves in their preferred position, with their backs against the wall - a situaiton that has worked out quite well for them in the past.
Bok coach Peter de Villiers said after his team's forgetable outing that there was no reason to panic. Perhaps it is a bit premature after one indifferent showing to label the Boks as flops, but alarm bells will certainly be ringing in the South African camp.
De Villiers' solution? Field the same bunch of players that failed to produce the goods and hope his loyalty pays off. Two forced changes seperate the team that started last week with Danie Rossouw in for disgraced Bakkies Botha at lock while CJ van der Linde comes in for tighthead Jannie du Plessis, who sustained a calf injury during the Auckland match.
Last week it was the turn of the All Blacks to name their most experienced team (671 caps), now South Africa will have all the experience in the world to call on after De Villiers announced the most capped Springbok team in history (bang on 700 caps).
Whether De Villiers' faith in keeping questionable combinations together actually pays off remains to be seen, but one feels a big reshuffle will be in order next weekend against Australia if the Boks crumble again.
The gamble to keep Jean de Villiers on the wing where everyone knows that his expertise lies in the centres may come back to slap his namesake in the face. So too will the Bok coach's stance to keep Ricky Januarie in the starting line-up with the likes of Ruan Pienaar - one of the in-form scrum-halves in the Super 14 - warming the pine. Zane Kirchner didn't do badly last weekend, but Frans Steyn at the back would settle a lot of nerves in the Republic.
In Wellington - where any excuse of jet lag gets thrown out the window - the early collisions will again determine the direction of the match, as will the ability to get a healthy early lead. Every team, as shown last weekend at Eden Park, is vulnerable when forced to come from behind.
Expect a Bok backlash, but the effectiveness thereof will depend on South Africa's ability to quickly address their flaws. However, even if they do manage to make the wrongs right, it still won't guarentee the visitors a victory - especially against an All Blacks side that have set last weekend's result as the benchmark for the rest of the season. A scary thought indeed.
Another classic Test encounter awaits...
Ones to watch:
For New Zealand: Some will say Rene Ranger's first start for the All Blacks is long overdue. The speed machine was a standout for the Blues during the Super 14, beating defenders effortlessly through a mix of pace and rare power for an outside back. But how he handles the heat of battle in the Test arena remains to be seen. Ranger showed some glimpses against Wales in Hamilton, but was perhaps unfairly remembered more for butchering a three-man over-lap than anything else. Following that 25-minute debut in midfield, Ranger's ability at the top level is still in question but his raw talents means he's worth the risk.
For South Africa: With Bakkes Botha out of the mix after letting his team-mates and country down with his Rambo-style headbutt, the door once again opens for in-form Danie Rossouw. Whilst Botha was serving a sentence for another off-the-ball incident, Rossouw hit all the right notes in the June Tests and it was baffling as to why he was dropped in the first place upon his Bulls' colleague's return. After passing a late fitness test, it will be hoped by Bok management that South Africa's new 'enforcer' is less of a disciplinary liability and brings more rugby than thuggery to the game.
Head to head: Piri Weepu v Ricky Januarie. Two halfbacks, whose careers have probably had more blips than highs, will be under no illusion of what's required of them come kick-off on Saturday. One of them gets a rare start for his country, whilst it's a probably a case of Last Chance Saloon for the other. Both, however, are tasked with getting quick ball out to their respective pivots which proved vital in getting on the front foot last week. In the black corner, Weepu comes off the bench to start his 40th Test for New Zealand. The Hurricanes' star, who is capable of delivering an even quicker service than the demoted Jimmy Cowan, has been lively in his efforts off the bench and will relish a start on home turf. In the green and gold corner, Januarie is given another chance to prove his food, er, rugby critics wrong. It doesn't take a rocket scientist to figure out that the Boks are missing Fourie du Preez, and his replacement has had mighty big boots to fill. He hasn't played badly, but the fact remains that South Africa have several players more capable of filling Du Preez's void than the favoured Stormers' reserve. Against Weepu, Januarie needs to deliver the goods to repay the faith Peter de Villiers has shown in him time and time again.
Previous results:
2010: New Zealand won 32-12 at Eden Park, Auckland
2009: South Africa won 32-29 at Rugby Park, Hamilton
2009: South Africa won 31-19 at Absa Stadium, Durban
2009: South Africa won 28-19 at Vodacom Park, Bloemfontein
2008: New Zealand won 19-0 at Newlands
2008: South Africa won 30-28 at Carisbrook, Dunedin
2008: New Zealand won 19-8 at Westpac Trust, Wellington
2007: New Zealand won 33-6 at Jade Stadium, Christchurch
2007: New Zealand won 26-21 at Absa Stadium, Durban
2006: South Africa won 21-20 at Royal Bafokeng Stadium, Rustenburg
2006: New Zealand won 45-26 at Loftus Versfeld, Pretoria
2006: New Zealand won 35-17 at Westpac Trust, Wellington
Prediction: It will take a huge effort to bounce back from the Auckland Test, but the adage goes that a week is a long time in rugby and this remains a Springbok squad capable of a turn around in Wellington. The All Blacks opening win was comprehensive, however, and South Africa needs a massive form reversal to have any chance of leaving New Zealand for Australia with a 1-1 record. It will be closer than last time, but that's as far as the final scoreline will go compared to a week ago. All Blacks to win by seven points.
The teams:
New Zealand: 15 Mils Muliaina, 14 Cory Jane, 13 Conrad Smith, 12 Ma'a Nonu, 11 Rene Ranger, 10 Daniel Carter, 9 Piri Weepu, 8 Kieran Read, 7 Richie McCaw (c), 6 Jerome Kaino, 5 Tom Donnelly, 4 Brad Thorn, 3 Owen Franks, 2 Keven Mealamu, 1 Tony Woodcock.
Replacements: 16 Corey Flynn, 17 Ben Franks, 18 Sam Whitelock, 19 Liam Messam, 20 Jimmy Cowan, 21 Aaron Cruden, 22 Israel Dagg.
South Africa: 15 Zane Kirchner, 14 Jean de Villiers, 13 Jaque Fourie, 12 Wynand Oliver, 11 Bryan Habana, 10 Morné Steyn, 9 Ricky Januarie, 8 Pierre Spies, 7 Francois Louw, 6 Schalk Burger, 5 Victor Matfield, 4 Danie Rossouw, 3 CJ van der Linde, 2 John Smit (c), 1 Gurthrö Steenkamp.
Replacements: 16 Chiliboy Ralepelle, 17 BJ Botha, 18 Andries Bekker, 19 Ryan Kankowski, 20 Ruan Pienaar, 21 Butch James, 22 Gio Aplon.
Date: Saturday, July 17
Venue: Westpac Stadium, Wellington
Kick-off: 19.35 (07.35 GMT; 09.35 SA time)
Referee: Alain Rolland (Ireland)
Assistant referees: Alan Lewis (Ireland), Stuart Dickinson (Australia)
TMO: Glenn Newman (New Zealand)
By Dave Morris