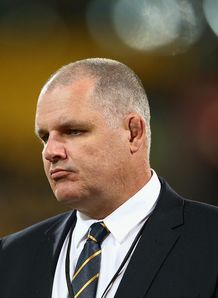 Related links
Teams
Also see
Australia head coach Ewen McKenzie was left frustrated by the lack of impact made by the Wallabies replacements on Saturday.
McKenzie reported that a quarter of Australia's missed tackles in the match came from their substitutes, with the former Reds coach expecting those players to make a more positive impact.
The Wallabies were beaten 27-16 in Wellington as New Zealand retained the Bledisloe Cup yet again for the 11th year in a row.
"We didn't get a great impact out of our bench. I expected the last 20 to be stronger," said McKenzie.
"You know I talk about finishes, guys who actually come on and improve the performance; it's no good if they're coming on and knocking on and missing tackles, and that's effectively what happened.
"Twenty-five per cent of our missed tackles came from the bench, so that was disappointing, and they were only on for the last 15, 20 minutes.
"I expect more. We'll talk about that.
"I know we've got young players and new players and whatever, but I expect them to make a difference, otherwise I don't put him on the field."