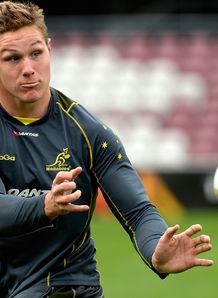 Related links
Teams
Wallaby openside Michael Hooper has leapt to the defence of underfire fly-half Quade Cooper ahead of Saturday's test in Wellington.
Cooper received a poor reception after coming on a substitute for Australia against New Zealand last weekend in Sydney.
Targeted after this tempestuous history with All Blacks captain Richie McCaw, Cooper has shrugged off the boos this week but Hooper believes that New Zealand supporters are being unfair, describing the Queensland Reds fly-half positively.
"It's something that Quade has dealt with quite well because I think it's quite unreasonable what the All Blacks supporters are doing to him," said Hooper.
"He's a great player and a really good guy so I think everyone who enjoys footy wants to see him do well and I think the booing's a bit below the belt.
"He deserves more than that as a player and I think he's got more to bring and I think with time on the field and the performances that he can put on there, that'll change and the booing will go because people want to see him play and he's a very exciting player to watch."
Hooper also added that Australia were encouraged by the number of points they scored against the All Blacks last weekend, with the Wallabies still intent of winning back the Bledisloe Cup.
"In regards to the weekend we are positive about it. We put 29 points on which is something that we've only done twice in the last 10 or so years," added Hooper.
"So for being together for two weeks I think that's a great achievement, however, we gave them too many opportunities.
"I think it's about not giving them those opportunities ... they're a great team in the fact they can capitalise it and put 47 points on us, but we can't let them have that.
"They've held the Cup for the last 10 years so there's definitely a bit of that, but in saying that there'd be nervous about losing it and we really want it.
"We've got two games now to claw it back and they're going to be tough over there but we all really want it.
"Everyone says that each year but this group's hungry for success I think."