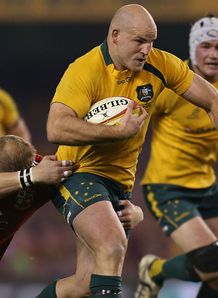 Related links
Teams
Australia hooker Stephen Moore has admitted that the Wallaby pack have been in a race against time to adjust to the new scrum laws.
The implementation of a new "crouch-bind-set" directive will feature for the first time in Tests this weekend, when Australia host New Zealand and South Africa play Argentina.
Ahead of the new system's first outing, Moore expects there to be a handful of early problems as teams adjust, including Saturday's match referee Craig Joubert.
"I think it is going to be a learning experience for everyone on Saturday, including the referees," said Moore to the Canberra Times.
"It is a bit different for the hooker, you have got to strike for the ball and I think they are going to be quite hard on the feed being straight, so we will practise it as best we can this week and hopefully we'll get it right on Saturday.
"I am sure there's going to be some teething issues there across the board but I am sure we will work as best we can.
"[The hooker] has scrummaged more as a second tighthead I suppose, without taking your feet off the ground.
"[The new engagement process] will be a bit different in that regard, having to lift your foot to strike. You have to work out the timing of when the halfback puts the ball in ... I guess it is aimed at making the scrum cleaner and having less re-packs, so let's hope that it works.
"Craig is really accurate with his calls, we have had him a few times in recent weeks and you need to make good decisions in your half and also when you have the ball.
"With [New Zealand number seven Richie McCaw] coming back there they'll be hard on the ball and we will have to be really accurate to make sure we provide clean ball out wide."