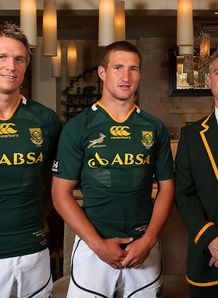 Related links
Teams
Springbok coach Heyneke Meyer expects to see a fast-paced encounter against Australia in Saturday's Rugby Championship clash at Loftus Versfeld.
Speaking at Wednesday's team announcement - where Meyer revealed his decision to drop fly-half Morne Steyn for 20-year-old wunderkind Johan Goosen - the Bok coach said the hosts are bracing themselves for an open game.
Meyer explained that it was a difficult decision to leave Steyn out.
"I always said I would do what was best for the team, and then individuals," said Meyer.
"It was especially tough to make the call with the game at Loftus. So it was a big call, but Morne is a true champion and he accepted it graciously."
Meyer's predecessor, Peter de Villiers, was in a similar position back in 2009 when pundits criticised him for not including Steyn, who later stepped up to the plate in emphatic fashion against the British and Irish Lions, which kick-started his international career.
After 41 caps, and playing the role as saviour with his accurate goal kicking, his form started to dwindle this year.
"He has put his body on the line for his country for the last three or four years and he won a lot of games that we could have lost if he didn't kick well," said Meyer.
"I just feel that it is in the best interests for Morne and the team that he doesn't play."
Goosen has played only 28 minutes in a Springbok jersey, after making his debut off the bench against Australia in Perth earlier this month.
The youngster's long-range kicking and ability to attack the gainline has gained him a lot of supporters in his short career.
Lions utility back Jaco Taute is another rising star that could find himself thrown into the deep end. With Bok centre Frans Steyn still nursing an ankle injury, Taute could be moved into the starting XV at outside centre, with captain Jean de Villiers shifting back to his familiar position on the inside.
"The big question was to have two young players, especially with Frans Steyn not 100 percent fit," said the Bok mentor.
"I would have loved to have two experienced guys on both sides of the youngsters, but I have a lot of confidence in them as well."
While Goosen is seen as more of a running fly-half, compared to Steyn, Meyer cautioned that the public should not expect miracles from the youngster.
"I think people have to be realistic because you cannot expect a 20-year-old to come in, win the game and score five tries, although I would love that," he said.
"There is also a process for Johan, he has been involved from the outset and we had chats when he was injured.
"But it is great as a coach to have depth at fly-half, even though there is a long way to go before the next World Cup."
Meyer said he would make a final call on Frans Steyn's availability on Friday.
"It is such a crucial game and he is such an influential player," he said.
"We were positive about him before training, but as he ran he hurt (his ankle) again."
With the national side back on home soil and playing at altitude, Meyer said they expected more tries to be scored than on tour.
"If you look at the previous games on the highveld, they (Australia) opened up the game from the kick-off, kept the ball in hand," Meyer said.
"I think that is probably why they will go with (Kurtley) Beale at 10 as well. Their intention will be to move us around and to run us around and hope we will tire."
Meyer, however, felt the Wallabies would play into their hands if they opted for an expansive game at Loftus.
"I like that because it gives you chances of great defence to get turnovers and you score from turnovers," he said.
"They will definitely play an attacking game, move the ball around, but that will suit our game plan as well. We will also open up the game.
"In a sense, on the Highveld, there are always more tries and that will be great for the public."