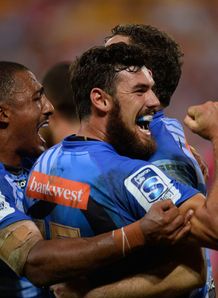 Related links
Teams
With the Western Force enjoying a taste of long-awaited on-pitch success, off it, the franchise now look to boost their finances.
An unprecedented run of four straight victories has seen Michael Foley's men shoot up to fifth place in the overall Super Rugby standings, with a thrilling late victory over the Reds proof of the squad's new-found belief and resilience.
Were the Force to extend their streak by beating provincial rivals the Waratahs at home on Saturday, they could top the Australian Conference depending on the outcome of the Reds' clash with the Brumbies a day earlier.
Now, though, the franchise bosses are looking to cash in on the momentum and feel-good factor around Perth, and shore up a balance sheet that has not made for pretty reading in recent years.
Increased attendances at nib Stadium plus an upturn in merchandise sales could see the Force turn a profit in 2015, having posted a combined loss of over a million Australian dollars over the previous two years.
"An important component is also the overall health of the game in the state," chief executive Michael Sinderberry told ABC.
"We're seeing more kids take up the game.
"As we look forward five or 10 years, we're going to get a much bigger groundswell of local players who are in love with the game and aspiring to be Force players."
Sinderberry, who was a major player in founding the Brumbies as well as taking charge of Saracens, also lauded Foley's influence at the helm.
"He's done a fantastic job since he got here," added Sinderberry.
"Really, there's only two new players in the starting 15 this season.
"It just shows how much that team has developed and worked hard to come together."