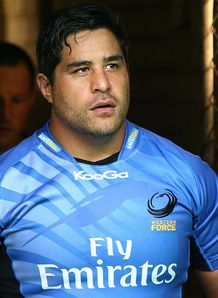 Related links
Teams
Also see
Western Force prop Pek Cowan admits adapting to the new scrum laws ahead of the Super Rugby season has been a challenge.
The change to a "crouch, bind, set" system has taken the onus off the initial contact at the scrum, with Cowan admitting the props now have to be smarter at the set-piece.
Cowan added that working with Force head coach Michael Foley, a former Australia hooker with 50 caps, had been very helpful in adjusting to the new laws.
"It has been tough trying to adjust. It's getting there but it's a very slow process," Cowan told The West Australian.
"If you are not technically efficient it can really sting you in terms of your own ball, but these rules also give the opportunity to the attacking scrum to attack so defensively you've got to be quite smart.
"Foles (coach Michael Foley) and the coaching staff have worked really, really hard on our technique.
"We've been breaking it down as much as we can and starting again because obviously it's something completely new.
"It's obviously different, trying to shake old habits is not easily done and it takes a little bit of time."
Cowan is now back at full fitness after recovering from a torn calf muscle early on in pre-season, with the 27-year-old now raring to go ahead of the new campaign.
"Physically I'm feeling really, really, good and mentally feeling really refreshed," added Cowan.
"We got through a pretty tough and gruelling pre-season. This is the business end.
"We've got a lot smarter. We've got the balance between ball in hand, fitness and strength and conditioning.
"We've set a few realistic goals. We believe in what we are setting in front of us. It is really exciting to see the shift in the group."