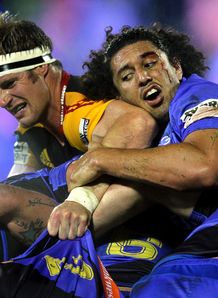 Related links
Teams
Chiefs skipper Craig Clarke admitted that Friday's narrow victory over the Western Force in Pukekohe was a disappointing one.
The Chiefs claimed a 22-21 win but were outscored by two tries to one and had to rely on penalties to win the match.
The result means that they remain in pole position in the New Zealand conference but a point behind the Brumbies on the overall tournament standings.
"It's a win but pretty frustrating," Clarke said.
"We made a few errors and I know it's wet but we're probably pretty disappointed."
"The conditions were a bit difficult. The ball's a bit wet but it's not the worst conditions you could play in.
"Obviously, it's still not an 80-minute performance from us."
The Force played more assertively in the second half and, after Aaron Cruden had kicked the last points for the Chiefs in the 44th minute, threatened to snatch the match with Pat Dellit's second try.
"The second half was good for us," Force captain Matt Hodgson said.
"We let them get away to a good start with a lot of stupid penalties in our own half and they kicked away to a good lead.
"We're a team that has a good system in place and when we stick to it we get results.
"We did that in the second half."