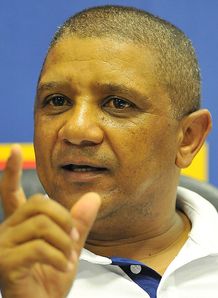 Related links
Teams
Stormers boss Allister Coetzee will meet with referee Stuart Berry, after the official penalised his side 20 times on Saturday against the Lions.
While in charge of the Lions, Berry has courted controversy in this year's Super Rugby season, with several contentious decisions against the Blues, Reds and Crusaders drawing widespread criticism.
Coetzee admitted he needed to get a grip on his side's indiscipline after they beat Johan Ackermann's men 18-3 to record just their second win of the campaign. On top of the penalty count, Stormers hooker Deon Fourie saw yellow for charging into Schalk van der Merwe at a ruck, and second-row Michael Rhodes was given an off-field yellow card for a dangerous tackle Berry had originally deemed unworthy of a sin bin.
"There was a lengthy discussion about our discipline this morning," said Coetzee on Monday.
"Discipline is of cardinal importance to us but we conceded 20 penalties and then on-field and off-field yellow cards.
"We dish out punishment to players who are guilty and we cannot play at this level with 14 players.
"It is important to deal with these (refereeing) decisions because players need to be sure what went wrong.
"We need to work with the referee so that we know what he wants. Of course, there are 50-50 decisions that will go against us, and some of the decisions could be debatable.
"When players are puzzled by decisions, the management will try to give them an explanation and that makes for a better understanding of the ref's decisions.
"It is also vital because Stuart Berry will get to blow some of our matches again."