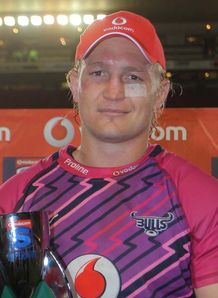 Related links
Teams
Also see
Victory in defeat left a bittersweet taste in the mouths of the title-chasing Bulls after they lost 30-13 to the Stormers in Cape Town on Saturday.
Straight after the match the Bulls were awarded a trophy for winning the South African conference.
However, the expression of their captain Dewald Potgieter showed no signs of a sense of achievement as he took hold of the grand conference winner's trophy.
"It was not a good feeling when we walked off the field tonight," admitted Potgieter after the match.
"Obviously, a lot has gone into winning the SA conference trophy but we saw tonight that we still need to react when we're trailing in a match."
The bittersweet feeling was equally prevalent in the Stormers camp that went into the match without hope of reaching the play-offs but they produced their most cohesive performance for the season.
It was little consolation for Stormers skipper Jean de Villiers, who reflected on his side's inability to rise above adversity in the past season.
"We find ourselves in this position [not being in the play-offs] because when the pressure was on us, we did not react the way we should have," he said.
"We started the season with a horrendous draw, and then we were hit by injuries.
"As a player-group we were also hit hard emotionally by what happened to Schalk (Burger), Elton (Jantjies) and Tinus (Linee)."
Bulls coach Frans Ludeke was philosophical in defeat, saying it was important that his players heed the lessons they learnt in the match.
"We had a great season with nine wins in a row but tonight we were given a reminder that we can lose focus," explained Ludeke.
"We cannot play like this more so if it is a knock-out match like a play-off.
"It is more important what we take out of this match and we now know that the line-out is one area we'll need to work on before the play-offs."
Ludeke said they would view the playoffs as a new competition, but they would not get ahead of themselves.
"The Stormers played with freedom and their set-pieces were better than ours," he said.
"They were a very determined side but at least we kept on going. We know what we have to work on for the semi-final."
Stormers coach Allister Coetzee also tempered his delight after his side's comprehensive victory.
"It is hard to accept the situation we find ourselves in when we have now defeated all three conference winners [Bulls, Brumbies and Chiefs]," said Coetzee.
The Bulls will have a bye next weekend when the two play-off matches, to decide the final four teams for the semi-finals, take place.
The highest ranked winning team will play the Bulls in Pretoria in a fortnight's time.