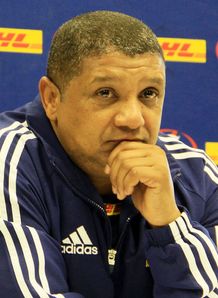 Related links
Teams
Stormers boss Allister Coetzee described his side's performance as "embarrassing" following their 21-30 loss to the Rebels.
The loss leaves the Stormers down in 11th place in the table, six points off the Wildcard spot in the South African Conference.
Coetzee's side have now lost their last three matches on tour the Stormers boss admits his side will struggle to make the playoffs.
"It's really disappointing - it wasn't a good performance," said Coetzee.
"To be honest, it was embarrassing... the players understood the importance of this game and finishing the tour on a high, but, yet again, we were our own worst enemies.
"One must give credit to the Rebels - they were the better team on the night - but we were poor; there's no excuses for that. I take full responsibility, but we need to pick up the pieces and move on from here.
"It's difficult to say, but in terms of play-offs it's so difficult now. We need to reset our objectives and just make sure we get back to winning ways again. We've got to make sure that we find the 'why' sooner, than later, and play for that we believe.
"No matter what though, we're a proud team (still) and we've got to make sure that we represent the Stormers jersey with pride and what we stand for."
Coetzee also gave an update on his side's injury situation, hoping that Tiaan Liebenberg and De Kock Steenkamp may soon return to fitness.
"Pat (Cilliers) will be out for a couple of weeks, I'm not sure (for) exactly how long, but he hurt his ankle.
"We've lost Scarra now (too), Deon Fourie is battling, after soldiering on with his sore ribs, but a guy like Brok (Harris) will come back into the frame in Pat's absence.
"At this stage, I'm hoping to get (hooker) Tiaan Liebenberg and (lock) De Kock Steenkamp back from injury. I think those two are the only realistic ones due back to fitness after either missing the tour or being sent home with an injury.
"Yes, it's difficult, but one thing we won't do is blame each other.
"We're in this together and we've got to take it on the chin. We've let our support-base down and the next best thing is to get back to winning ways and just reassess our objectives and make sure that we get it right in the next couple of games."