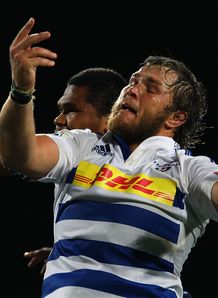 Related links
Teams
The Stormers look set to be without Duane Vermeulen for a lengthy spell after the Springbok loose forward damaged his knee on Saturday.
The Stormers suffered three potential injury-blows during their 15-21 Super Rugby defeat to the Waratahs at Allianz Stadium.
Hooker Deon Fourie (ribs) and loose forward Rynhardt Elstadt (knee) are also likely to join Vermeulen on the sidelines.
"It's not looking good at this point in time," said Stormers coach Allister Coetzee.
"Duane hurt his knee, it looks like his MCL. Rynhardt is similar (also the knee), it seems, and it could be long-term. Deon Fourie hurt his ribs.
"I am awaiting results on all those injuries, before we know the full extent. Those three are the big injuries after tonight's game."
Initial reports suggest that Vermeulen could be out for eight weeks.
The Stormers led 15-11 going into the final ten minutes of the game, but conceded a late converted try - followed by a penalty on full-time - to suffer a second narrow tour loss.
"Once again it goes without saying that it wasn't the result we wanted," said Coetzee.
"We really threw everything at the Waratahs tonight, but it seems to not be going our way. We had the ascendancy going into those final ten minutes but we suffered three big injuries - we lost Duane, Rynhardt and, also, Deon Fourie (a bit earlier).
"It came at a crucial stage of the game - we were leading 15-11... (but) just one mistake at a line-out; we knocked on, they kicked the ball through and that's where they got their winning try.
"We're really hurting, it wasn't the result we wanted, but I have to commend the players for the effort out there tonight."
It was the Stormers' fifth losing bonus point of 2013.
"What hurts even more is that we're making mistakes at crucial stages - costly errors - it happened last week and it happened again today," Coetzee told the Stormers website.
"Defensively we were outstanding and our set-piece functioned well. It was a typical Test-match out there, it was a hard-fought dog-fight... We knew we had to slog it out, but, once again, I think we beat ourselves.
"The bounce of the ball really does not favour us at this point in time, but one must give credit to the Waratahs. They kept their composure and they stuck it out to the end. It was a Test-match situation as I said, it was a physical game, but they fronted up until the end."