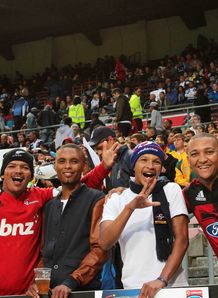 Related links
Teams
Also see
The Western Province Rugby Union has begun an investigation into the alleged incidents that drew criticism from Stormers players and fans.
Cape Town-based Crusaders fans, who call themselves the 'Cape Crusaders', have come under scrutiny for their behaviour during last weekend's game at Newlands.
The Stormers lost the match 19-14, but the Crusaders "away" supporters - mostly made up of the country's coloured community - have been accused of stepping over the boundary of decency.
They allegedly booed captain Jean de Villiers and his troops off the team bus and were hugely vocal during the game - getting under the skin of Stormers supporters with some reports of people leaving at half-time and others saying they won't take their families to Newlands again.
"There seems to be a history of incidents when the Stormers and the Crusaders play at Newlands and we are already in conversation with all role-players to ensure that we do not have a repeat of this in the future," said WP Rugby's managing director, Rob Wagner.
"We would like to apologise to any members of the crowd who were inconvenienced in any way on Saturday. We will never condone bad behaviour from anyone in the crowd at Newlands. A full investigation is taking place to ensure that Newlands remains an enjoyable rugby venue for all members of the rugby-watching public."
Injured Stormers wing Bryan Habana, who is recovering from a leg injury, condemned the actions of the 'Cape Crusaders' fans on Twitter, saying: "If I had the money I would happily buy all these "Cape Crusaders" a one way ticket to Christchurch!! #disappointedproudsouthafrican"
He then added: "highly doubt there's any place in the world where you get booed off your bus, at your home stadium, by your "fellow" countrymen. And yet there are so many amazing, passionate, faithful supporters at Newlands!! We really appreciate your support!!!"
This investigation is the third incident in South African rugby this year involving poor fan behaviour. It follows a violent fight between rival supporters inside the Nelson Mandela Bay Stadium and the death of a rugby fan after a brawl outside Kings Park stadium following the Sharks' win over the Rebels.