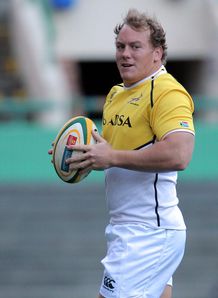 Related links
Teams
The year 2012 will certainly go down as a big one in the life of Pat Cilliers, rising from a promising up-and-comer struggling for game time to a Springbok with six caps to his name.
In truth, Cilliers' rise started a little earlier, with a move from the Sharks to the Lions ahead of the 2011 Currie Cup kick-starting his career. In leaving the comfort of the union he knew and loved for greener pastures, Cilliers was afforded the opportunity to cement himself in a starting line-up at Super Rugby level and despite the struggles of the Lions was a standout player. As such it came as little surprise that a Springbok call-up arrived and not long after a Test debut against Argentina.
However, the upheaval at the Lions meant another move was on the cards. The Stormers came calling and with the opportunity to prove himself once more at the highest level, Cilliers has begun the next chapter in his burgeoning career.
"When the Lions were out I just knew I had to play Super Rugby no matter where it was," Cilliers told Planet Rugby.
"They obviously wanted to keep the bulk of their players because they want to get back into Super Rugby, but as a player you really have to look after your career first no matter what.
"I had a few options but I really thought that the Stormers, with the way they play, how competitive they've been and the great setup that they have, they were my number one choice and I'm really happy to be here."
Cilliers admits that last season was a tough one to be at the Lions, suggesting that the side were not afforded the off-field care they should have been. However, he doesn't believe that individual performances were impacted too heavily by the uncertainty surrounding the team's future.
"I just think we lacked continuity," he explained. "We had a lot of injuries at the beginning of the season; there was chat about captains and dropping people and bringing people in. I don't think we were looked after as well as we wanted to be off field and that probably showed on the field
"The Kings thing...as a rugby player you don't really look at what's happening outside, it's very much an internal thing. So it didn't really affect the individual players that much but it obviously affected the team."
Despite this, Cilliers has no regrets about his decision to move to the Johannesburg franchise, with the presence of an all-Springbok front row seeing him sidelined at the Sharks.
"I loved the Sharks at the time, I'm a Sharks boy through and through, but looking back it was the best decision I could have made," he added.
"I wasn't really getting the game time I wanted and I loved Jo'burg and it broadened by horizons not only as a player but as a man, with new friends and a new lifestyle and I will never regret that. It was the right move - tough at the time - but looking back it was the best move I could have made."
Prop has been a problem area for the Stormers for some time now, and Cilliers' arrival certainly is a boost in this area. Part of the 26-year-old's strength is that he is able to play on both sides of the scrum, although he admits his heart lies at tighthead.
"Obviously if the team needs me I'll play on either side but I do prefer tighthead. It's very much a position you have to play - the more you play it the better you get."
Some criticism has been aimed in Cilliers' direction for not making enough of an impression early on in the game, with the role of an impact player coming off the bench perhaps his strength. He concedes he is often at his best when the game has opened up, but that he still adds value from the first whistle.
"I'm that kind of player, I want to get my ball on the hands and run and I think that sometimes early in the game it's a tight battle," he explained.
"But I'm very much a team player, I'll play on the bench or I'll start. Obviously I prefer to start, I think that every rugby player does, but if I have to be on the bench then I'll do that."
Whether it be from the start or off the bench, Cilliers appears to have a bright future ahead of him for both the Stormers and the Springboks, and he certainly isn't resting on his laurels.
"Last year was just an awesome year. It was tough in Super Rugby in terms of the Lions only winning three or four games but then making my Springbok debut was an unbelievable and then to go on an end of year tour capped an awesome year," he continued.
"But the thing with rugby is that you have to enjoy the moments when they come but you have to look to the future and I think one day when you're finished with rugby you can look back and say 'that was an awesome year' but you can't afford to live in the past when you're playing, you have to look forward and keep improving."