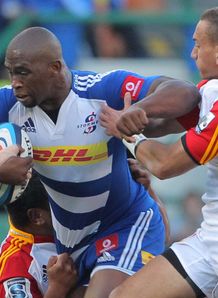 Related links
Teams
Stormers skipper Jean de Villiers was relieved his team ended their two-match losing streak after edging past the Chiefs on Saturday.
Last year's SA conference winners finally came good in this season's Super Rugby tournament when they scraped home with a 36-34 win over their New Zealand opponents.
After losing their first two matches of the season, the Stormers ran in three tries en route to their first victory - although uncharacteristically they conceded four tries, with the Chiefs securing a couple of bonus points.
"We were relieved after this win," said De Villiers.
"It was a massive effort by the team.
"There was a lot of pride at stake. The players were willing to play for each other, and for the team.
"The Chiefs are a great side, they're the champions and the result could easily have gone another way."
The Stormers lost Springbok wing Bryan Habana half-way through the match after he injured his left knee, but managed to shake off the setback as well as a late surge from the Chiefs to hang on for a well-earned win.
"We've played for a win since the start of the season and it's pleasing when you can turn things around," said coach Allister Coetzee.
"At the start of the day we had a few guys (Habana and Deon Fourie) down with gypo guts (gastrointestinal illness) and that was a concern. But there was a massive improvement in our execution."