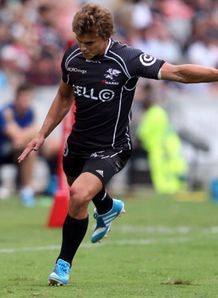 Related links
Teams
The Sharks have welcomed back Pat Lambie and Frans Steyn to training as they start preparing for the final stages of Super Rugby.
In two weeks' time, they will resume duty against the Cheetahs in Bloemfontein, followed by their final pool match, against the Stormers down in Cape Town.
The final series follows with the Sharks already guaranteed a place in the top three, having already secured the South African Conference.
The players have had a mixed programme over the June break, alternating rest with gym work and field training to balance the needs to break from the game, without losing strength and fitness.
"One of the decisions we made as a coaching staff was that we weren't going to push the players too hard during the June break," said director of rugby Jake White.
"They had an eight match block, a tour towards the end of that block, the Boks are away, so to keep bashing the same guys over and over doesn't make sense.
"It's been a good refresher for us and although we're not in an ideal position with our Boks away, at least it gives us time now to start getting our game plans and game strategies right for the next couple of weeks."
Despite the rigours of the competition and the toll it takes, the Sharks are in a good place with players returning to action to bolster the side at this crucial time.
"Frans Steyn has had two weeks off, time to chill out a bit," added White.
"Looking at the stats, he's played the second-most amount of rugby for us this year - behind Lwazi Mvovo - and I needed him to have some time off, which he has and he joined us along with the squad when they all assembled here on Monday morning. He's all ready to go."
Pat Lambie who missed the last nine games is working hard, along with the medical staff, to return to action as soon as possible, with the good news that it could be soon.
"Pat is also training with us, he has a few things to get right medically, there will be a few tests undertaken to see what he can do and what he can't do, and once he can tick all those boxes then he'll be ready to go. It all looks positive though, it looks like he's on track for 10 days' time."
In other words, he could turn out for the Cheetahs' game.