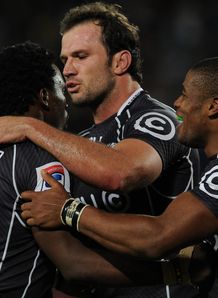 Related links
Teams
Also see
With Jean de Villiers on the sidelines, Springbok coach Heyneke Meyer must replace him as captain with Bismarck du Plessis.
Victor Matfield's imminent inclusion in the Bok squad, for the upcoming internationals against a World XV, Wales and Scotland, makes him a favourite to skipper the two-time World Cup winners, especially considering his close relationship with Meyer, and the success they had as a captain and coach at the Bulls.
But giving the captaincy to the 37-year-old will be counter productive as he will not play beyond next year's World Cup, and although he has captained the Boks before it will be the wrong decision as he is bound to step down from the role when de Villiers returns to the side.
What message does it send out to du Plessis, who was the Boks' vice-captain in 2013?
Du Plessis deserves his chance having bided his time as de Villiers' number two and has impressed as the Sharks' captain since being appointed to the role at the start of the season.
He has led the Durban-based franchise to the top of the table in the Super Rugby competition, and despite being criticised in the South African media for being too chatty with referees, has grown into the leadership role.
This was evident in the Sharks' recent victories over the Crusaders and Blues away in New Zealand, when his side played with 14 and even 13 men on occasions. Despite suffering a numerical disadvantage in those matches, du Plessis didn't panic and his cool head in difficult circumstances certainly helped his team to victory on each occasion.
Appointing Matfield ahead of du Plessis could also have an effect on the team's morale - something which Meyer doesn't want to risk jeopardising shortly before the World Cup.
What happens if Matfield is appointed as skipper and steps down when de Villiers is back in the starting line-up? Does Matfield become the vice-captain or does Du Plessis continue?
Prior to the 2011 World Cup, du Plessis reacted angrily when former Bok coach Peter de Villiers replaced him with John Smit during a Test in Port Elizabeth.
I'd like to believe that du Plessis has matured since that episode and won't react in the same way if the same fate befalls him if Matfield is preferred as captain or even vice-captain when de Villiers returns to lead the Boks.
However that type of scenario shouldn't happen as Bismarck deserves to take over the reins himself.