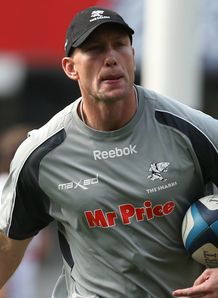 Related links
Teams
Sharks coach Brad Macleod-Henderson is waiting for news regarding the possible arrival of Jake White onto the coaching staff.
White left the Brumbies in a shocking twist last week after great success in Canberra over the last two seasons.
The former World Cup-winning coach has been linked with a director of rugby role in Durban, along with admitting an interest with a coaching role with Western Province.
Macleod-Henderson took over at the start of the season at the Sharks along with Brendan Venter and Sean Everitt, replacing the old regime lead by John Plumtree.
Venter's appointment swiftly followed the recent arrival of John Smit as CEO after the two worked together at Saracens, meaning a change at the top would be surprising so early on.
"We're not too certain as to what's going to develop," said Macleod-Henderson.
"We've obviously read similar things to what you guys have - that there's an opportunity that Jake might be coming to join us in some capacity.
"We all know he's a fantastic coach and it will be great for coaches like ourselves to have him in the system somewhere, so we can hopefully work with him and pick his brain.
"We're just really focusing on the job at hand at the moment.
"We've got a job to do on Friday night and that's to go up to Loftus (Versfeld), put on a good performance and get a result, so we're obviously focusing on that."