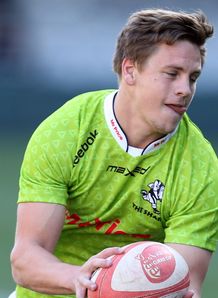 Related links
Teams
Sharks winger SP Marais believes he has "found his place" at the Durban outfit after moving from the Kings for this season's Currie Cup competition.
The 24-year-old, who turned down the Bulls and Cheetahs, was the biggest signing for the side and their coaching staff for the domestic action.
"There were a few options but I had to look at the bigger picture," he said about his recent move.
"I had to make a sound decision and, for any rugby player, the most important thing is your game time and that was one of the big factors that brought me here."
The Cape Town-born player made a successful start with the Sharks scoring a match-winning try on debut against the Golden Lions last Friday.
"As you see, I've been here a week and already got the opportunity," Marais said.
"I need to use these opportunities now, so that when Super Rugby comes around next year, I've already found my place here.
"The first game was good, but it was more about the team winning and I'm I was part of that."
His decision to leave Eastern Province was based on his ultimate goal to play for the Boks.
"If you want to go further and into the green and gold, then this is the way to do it," he added.
"So it was time for me to move and I'm very happy to be here."