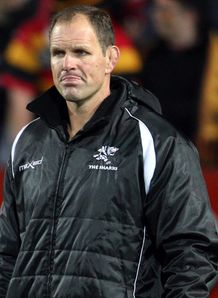 Related links
Teams
Also see
Former Sharks boss John Plumtree has revealed he was "hurt" by the manner in which he parted ways with the Durban-based franchise.
Plumtree was fired last week by new Sharks CEO John Smit, and he admitted that although the Sharks will always be close to his heart, he was disappointed after hearing about the franchise's interest to dismiss him via the media.
He also revealed that he had a verbal agreement with outgoing Sharks CEO Brian van Zyl that he would remain in his job for the next two years.
That is why the Sharks had were forced to pay him for the next two years. His original contract with the Sharks was due to finish at the end of 2013.
"The last while was a very emotional time for me and my family," Plumtree told the Beeld website.
"(And) yes, the manner in which I finished here did hurt very much.
"This place (Kings Park) was such a big part of my life for 20 years. I was an inexperienced New Zealander when I arrived and it was just unbelievable to experience the passion for Natal rugby.
"I gave my all for this jersey as a player and also as coach - therefore I don't even consider myself a Kiwi anymore, but a proud South African and Natalian.
"The Sharks will always be a part of me and I'm passionate about them. Here I had a lot of good and bad times. I will therefore not even consider coaching any other team in South Africa.
"Who knows, maybe I'll come back here one day as coach of an overseas team," said Plumtree, who confirmed that he will now work as a rugby analyst on television.