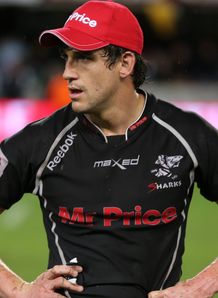 Related links
Teams
Also see
Sharks skipper Keegan Daniel has denied reports that there is a rift between the Afrikaans and English players in the Sharks squad.
The Beeld newspaper reported on Tuesday that Daniel believed there were too many Afrikaans players in the Sharks set-up and that they were responsible for the establishments of "cliques" in the squad, with the captain an isolated figure.
Daniel's first response to the claims was to post a photograph on Twitter of himself enjoying a cup of coffee with team-mates Jannie du Plessis, Pieter-Steph du Toit and Franco van der Merwe - all of whom are Afrikaans. Attached to the tweet were the words: "Just getting a quick lesson in Afrikaans before training. Your thoughts?"
The Sharks have now come out with a fierce retort, slamming what they say are false and malicious reports.
"The Sharks strongly condemn this article, which borders on sensational and tabloid journalism. The report is unsubstantiated and irresponsible and we strongly deny that any such rift is evident in the camp," a statement from the Durban outfit read.
The statement continued with Daniel commenting: "I was shocked to hear about these allegations. I can't believe that someone would say this about me in order to try and sell newspapers. It is an attack on my integrity, which is very disappointing, and it is most untrue.
"I have never had a problem with any person in our rugby squad. Since this report surfaced I have had nothing but support from my teammates of all cultures. This is a lesson that younger players in our squad can learn - when a team is struggling with form then you become an easy target."