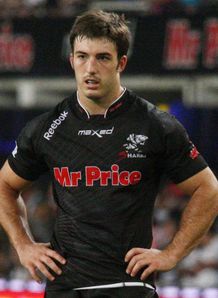 Related links
Teams
Also see
The Sharks injury bogey continues with news that outside centre Paul Jordaan will be returning home after suffering a tournament-ending knee injury.
The Sharks casualty list has now reached a whopping 16 players, with coach John Plumtree set to call on Lwazi Mvovo as a possible replacement.
"We're very disappointed to lose Paul Jordaan, he's out for the rest of the season," said Plumtree.
"Paul suffered an ACL knee ligament injury 6-9 months out.
"He was playing touch rugby, we were just having a light run, jogging out the jet-lag and he stepped, was caught and his knee collapsed. It's a big blow for us, we're all disappointed for Paul and for the team.
"It's the last thing you want, the side is already depleted and to lose a guy in your first training session is pretty depressing, but there's not much we can do."
The Sharks did welcome prop Danie Mienie and wing S'bura Sithole from the Vodacom Cup side to increase their numbers, the pair meeting up with the team later.
With Jordaan out, it appears that JP Pietersen could end up playing in the number 13 jersey, something he did in the 2012 campaign. And if Mvovo is back, coupled with Pietersen, the Sharks would have some serious attacking stocks available to them again.
"Hopefully we'll get Lwazi back and there's a possibility of bringing JP back into the midfield, we'll make those decisions once we know the status with Lwazi," said Plumtree.
"We might be forced to play JP in the midfield, it's not his primary position obviously, but he did a good job for us last year with his x-factor."