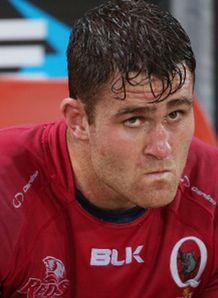 Related links
Teams
Reds captain James Horwill says his side were "robbed" by a controversial TMO call during Saturday's 30-27 loss to the Rebels in Brisbane.
The TMO Steve Lescinski ruled Ed O'Donoghue had eye-gouged Rebels skipper Scott Higginbotham, after referee Steve Walsh had originally awarded a penalty to the hosts.
The decision left Horwill fuming, all the more so in the wake of more refereeing controversy during his side's defeat to the Lions earlier this season.
"In the end, once again we were robbed by a stupid refereeing decision," Horwill told Fox Sports.
"I have played more than 150 games of professional rugby and I have never ever seen that happen before - ever," Horwill said.
"It's getting beyond a joke. It's ruining the spectacle that Super Rugby is.
"Super Rugby has always been about expansive rugby but it's going out of the game because too much of the game is being slowed down to look back (at incidents)."