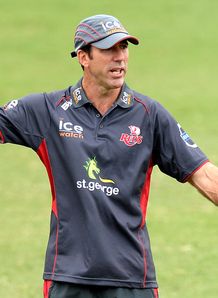 Related links
Teams
Reds boss Richard Graham expects a difficult assignment when his charges face the Lions in Johannesburg on Saturday.
The Lions, who were traditional strugglers in the competition before being relegated at the end of 2012, returned with a bang this year and are the tournament's surprise package.
They are currently fourth on the table after five rounds of matches.
They've won three of their five matches this season and Graham and his charges, who lost to the Sharks in Durban last week, are determined to finish their two-match South African tour on a high but know a huge challenge waits for them in Johannesburg.
"The 2014 Lions side is unrecognisable to the side from 2012," Graham told AAP.
"They've made a raft of changes in their squad having being relegated last year. (They) have come back with a young group, full of energy and playing a good brand of rugby.
"You've got a young group that don't bear the scars of their previous history.
"You've got a 10 at the moment, whilst he's only four games into his Super Rugby career, he's full of confidence and kicking goals from anywhere, from 60 metres out."
Reds flanker Eddie Quirk believes making the most of limited opportunities to prepare for conditions will be crucial.
"The altitude's probably the main thing training-wise that you have to adapt to and it's just a different place," explained Quirk.
"The majority of the South African teams are big and physical. That's exactly what we expected from the Sharks and they gave us that.
"We've got to take the same attributes into this week against the Lions.
"Nothing really changes except we've probably got to perform better."